Page 1 of 13 • 1, 2, 3 ... 11, 12, 13

Hello, everyone! So, this Role Play was created in honor of Young Justice getting a Season 3! We are all really excited!
In this Role Play, things are a little different. These are not the usual Young Justice Team you remember. Each of them now have a twisted backstory and slightly different personality and different powers, or vice versa if they didn't have powers before. However, everything else is the same. The Leaguers are the same, the world is still the same, just some of the people are different. But there shall be enough action to cover it all.
Now, may I present to you....

IceMakeMage19




Messages

: 12111


Data de inscrição

: 2014-04-02



The Old Team with Twists
Richard "D'ick" Grayson
13
Old Alias: Robin
New Alias: Elex
Old Backstory: D'ick used to be the son of a trapeze act called "The Flying Graysons" in Haley's international Traveling Circus until a mob man named Tony Zucco sabotaged his family's act and killed all of them during one of their shows. Batman, who was there that night by coincidence, witnessed this and took the boy under his wing, training him to become Robin and get justice for his family's deaths.
Story now: D'ick still grew up in Haley's circus. However, it was only him and his dad and they performed Magic Tricks with actual magic instead of doing the trapeze. His father, John, took care of the Helmet of Fate after Kent Nelson gave it to him for protection until one night, during a show, another magician tried to take the helmet from them. John caught wind of this and went into action, not going to allow an evil hand to touch the all power helmet. D'ick then advanced, trying to help his father, but John could not protect his son and protect the helmet at the same time against the power wizard. So, he donned the Helmet of Fate, allowing Nabu to use his body as a vessel and defeated the wizard. And so, in turn, he could not take off the Helmet, since Nabu refused to let the Earth go without his protection, leaving D'ick alone.
When that happened, D'ick was comforted by the members of the Justice League who agreed to allow him to stay at their old HQ, a Cave in Happy Harbor so he could have a somewhat-normal life while training his magic to become the magician and hero his father would want him to be.
Wallace "Wally" West
16
Old Alias: Kid Flash
New Alias: Speedy/Red Arrow
Old Backstory: Wally grew up in a regular suburban neighborhood with a regular life with loving parents. He had always been a little science nerd, and he was fascinated with the Flash. When his Aunt Iris married Barry Allen, he kinda figured out that Barry Allen was the Flash and begged to be his apprentice, even though he didn't have powers. Then, when he was 12, he recreated the same kind of experiment that his uncle was doing the night he became the Flash, and it backfired. He was in the hospital with a broken arm until a week later, he had discovered he had super speed, albeit being a little slower than his uncle, but he became the teenage speedster everyone loved.
New Backstory: In this world, Wally West grew up in Starling City, just outside of the Glades. His mother is Barry Allen's little sister, who they often visited him in Central City, before and after he became the Flash. He was still a flirt. He still liked science. However, he was a little more interested in the new hooded vigilante who called himself "the Arrow". He wanted to be a hero just like him and his uncle, but he got his b.utt kicked every time. It was one night when his mother was getting off her graveyard shift at the hospital that his whole life changed. His mother was mugged and killed right outside of the hospital she worked at in the Glades. Wally, consumed by rage and wanted to find the bast.ard that killed his mother, began to do what the Arrow did. He began to fight crime in the streets.
One night, the young red head was on the verge of dying after he took on too many crooks when the Arrow stepped in, saving him. The Arrow, who was revealed to be Oliver Queen, told Wally to stop trying to be a hero, but Wally was persistent and went against his better judgement. The Arrow knew he would not stop and instead allowed him to began to have lessons with him, teaching him the right ways to fight and use a bow. And, years later, he is still the young sidekick of the Green Arrow himself.
Kaldur'ahm
18
Old Alias: Aqualad
New Alias: Leviathan
Old Backstory: Kaldur grew up in the capital of Atlantis called Poseidonis. He grew up in the Ahm family, believing that they were his family, when really his father was the infamous Black Manta, a traitor to all of Atlantis. Kaldur studied in the Conservatory of Atlantis with his friends, Tula and Garth. Then one day, the city was under attack, and Kaldur sprung into action to help his King, King Orin, or to the surface dwellers, Aquaman. With his help, they are able to restore peace and beat the tyrants. Aqua man saw potential in Kaldur and donned him the name "Aqualad" as his protege, helping him above ground and under the sea when needed.
New Backstory: Kaldur had the same life as he once did. However, Black Manta advanced onto the King, determined to take down the throne. Aqualad was aware of this and he fought Black Manta tooth and fin until Black Manta exposed the truth of who he was to Kaldur. Kaldur was shocked, and he, too, became angry at the King for the lies he fed him, along with his so called "family".
Feeling lost and confused, Kaldur reached out to Black Manta for answers. His real father explained to him what had happened all those years ago and told him how the King must die for what he had done so long ago. He even manipulated Kaldur into thinking that the reason his love, Tula, had died a year before was because of King Orin and Queen Mera's decision to allow her to join their ranks early. Enraged, Kaldur sworn into Black Manta's legion, vowing to get revenge for Tula and get his own justice.
Conner Kent
16
Old Alias: Superboy
New Alias: Superboy
Old Backstory: Conner had been nothing but a cheap clone of Superman created by Cadmus, a science organization funded by the evildoers called "The Light". His mission was to kill Superman and take his place, being the weapon the Light and Cadmus created him to be. However, that did not happen when Robin, Kid Flash, and Aqualad infiltrated Cadmus and found him inside of his pod. There, they told him he could have a life of his own, create a future for himself other than what they wanted him to be.
New Backstory: Conner is not a Kryptonian, but he has similar powers that of a Kryptonian. In a nearby galaxy, there is a planet called Daxam where he was born into a family of Gladiators. The people of Daxam were not as advanced as the people of Krypton. And one day, everything had changed. A star had blown up and turned into a black hole, sucking the planet of Daxam into it. Conner, or Kon-El's, family feared that he, the youngest of them, would die, so they sent him away to Earth, said to find a man named Superman for guidance. And so, not even long after, Kon-El arrived to Earth and crash landed somewhere in Kansas. He was founded by Superman, who knew a thing or two about falling ships, and Kon-El told him what had happened to his home planet. And so, under Superman's guidance and leadership, Kon-El became Conner Kent and Superboy.
Roy Harper (or Crock)
18
Old Alias: Speedy/Red Arrow
New: Cheshire
Old Backstory: Not much is known about Roy Harper. What we know is that he grew up somewhere in Star/Starling City during the time of crisis when the Arrow, or better known as the Green Arrow, stepped in and cleaned up the city the best he could. Roy, who liked the idea of criminals getting their just desserts, begged the Green Arrow to take him under his wing as his protege. Green Arrow was reluctant, but he knew that if he did not train Roy right, he'd end up getting himself killed. And so, he agreed, allowing Roy to be his partner as Speedy.
Then, when Roy was of age, he wanted to be admitted into the Justice League. He was pretty eager, considering he was actually a clone made of the real Roy Harper and grown in Cadmus just like so many other heroes, admittedly. He was rejected and quit being the Green Arrow's sidekick to become the Red Arrow and be his own hero.
New Backstory: Roy Harper, or now Roy Crock, is the youngest son of Lawrence Crock, aka Sportsmaster, and the former villain known as Huntress, or Pamela Nguyen. He was brought up into the life of villainy because his mother was imprisoned when he was just a boy and his older brother, Jim, left his family to have a nice life free of crimes. That left Roy alone with his father who bred him into the assassin, Cheshire, today.
M'gann M'orzz/Megan Morse
16
Old Alias: Miss Martian
New Alias: Miss Martian
Old Backstory: M'gann M'orzz, or as her Earth name, "Megan Morse", grew up on the Red Planet known as Mars. She claimed herself as Martian Manhunter's niece, when in reality she was a White Martian. The White Martians were seen as monsters, barbarians, judged as underclass by the Green Martains. However, Martian Manhunter saw potential in her and he took her under his teachings, allowing her to be his honorary "niece" and partner. She stowed away to Earth after hearing that the young heroes had made a Team of their own and wished to be apart of it. And so, she came down to Earth, and with their permission, became "Miss Martian".
New Backstory: M'gann is not the same as she was in the original story. In this world, she was a full blood Green Martian. However, she did not really agree with Martian Manhunter being some kind of hero to the humans, who she thought of as lowly from stories she heard from J'onn J'onzz. She had always thought of herself - of her race - as superior in every way, especially against the White Martians that were thought of as barbarians and monsters because of their appearance. However, she was curious. How was Earth? Were the humans as weak as told?
She took her own Martian Bio-Ship and went to Earth, disguising herself as a regular human at first until some stupid human tried to pick a fight. From there, she exposed her true nature and hurt the human pretty badly. She saw the fear in the human's eyes and she felt powerful, supreme. These humans were weak. They were scared. They did not know their place. She decided to stay on Earth, be the "goddess" she thought herself to be.
Artemis Batchelder/Summers
16
Old Alias: Artemis
New Alias: Mystique
Old Backstory: Artemis is the daughter of the criminals Sportsmaster and Huntress. When she was little, her mother, Pamela Nguyen, was put into prison and lost the ability to walk, paralyzing her from the waist down. Her older sister, Jade, did not want to be bossed around by her father anymore and left her to be under her father's care. Her father, who was not the Dad of the Year, trained her to be a killer when she did not want to be like that deep down.
When her mother got out of prison, and her dad had disappeared off the grid, she went and lived with her mother while also beginning her new hero career as "Artemis". The Green Arrow and Batman caught wind of this young female vigilante whose outfit was similar to that of the Green Arrow's. They knew who she was, and yet, they allowed her to be Green Arrow's protege, and eventually become apart of the Team.
New Backstory: Artemis was born a mutant. She had scaly blue skin, slick short red hair, and blazing yellow eyes. Her father, who was a scientist that messed with risky experiments, was dazzled whenever she was born.The infamous Dr. Batchelder began to experiment on her at an early age, amazed at her beautiful skin and mutant powers of being able to take on the form of another.
Growing up, she felt afraid of her father, but remained kind nonetheless. Whenever she could, she would watch a TV show called "Buffy the Vampire Slayer" and saw she was her idol. She did not know the outside world, only by the TV and the characters. All of it was real to her. And, feeling like she was like one of the monsters that Buffy fought, she took on the for of Buffy.
When she was old enough, she realized her father was not some brilliant scientist, but a murderer and a crazy man, she resisted and escaped her father's clutches, escaping to the outside world.
A couple of months of being alone, she almost died other than stealing food from others. That is where she ran into Martian Manhunter, who told her she could change just like him. He took her in and told the League about her, and she told them about her father, and brought him to Justice. Feeling good about being able to save people, asked the League if she could become a hero as well, and grew up in their care, mainly under Martian Manhunter's authority, and became the girl known today as "Mystique".
Zatanna Wayne
13
Old Alias: Zatanna
New Alias: Batgirl
Old Backstory: Zatanna is the only daughter of the sorcerer, Zatara. Her father taught her everything she knew about magic. Then, one day, she met the Team when Zatara brought her to the Cave to "make friends", and instead she got infatuated with the idea of being a hero. And then one day, all of the most powerful warlocks got together and separated the children from the adults. In order to stop them, Zatanna put the Helmet of Fate on, allowing Nabu to use her as a vessel to stop Klarion and the other Warlocks. They one, but at a price. Zatara then bargained with Nabu, saying he will put the helmet on in exchange of getting his daughter back. And he did, allowing Nabu to take over his body and having Zatanna become apart of the Team, staying at the Cave with M'gann and Conner.
New Backstory: Zatanna is the result of a long, fun night between Selina Kyle, aka Catwoman, and Bruce Wayne, aka Batman. When she was born, Selina did not wan her to have the life that she did, and so she gave her to Bruce, telling her she would be better off with him. Bruce took in the child, despite the horrible rumors about Bruce having a love affair with so and so, and doing this and this. He loved Zatanna and wanted her to have a normal life as she could.
Then, one day, Zatanna, being the curious little girl she was, found her father's Bat-Cave and became very excited that her father was Batman. Now she knew why he made her take martial arts classes, for self defense of course, and why he was so strict with who she hung out with. This sparked something in her. Something mixed with rebellion and adrenaline. She wanted to be like her father and be a hero. Bruce refused for the longest time until she went out on her own and did a semi-good job until he came in. When he realized that she would not stop, he allowed her to become his partner, as Batgirl.

IceMakeMage19




Messages

: 12111


Data de inscrição

: 2014-04-02



Name: Ohera T'heos (Atlantean θηēpa T'ηēς )
Alias: Athena (Ἀtηēνa)
Age: 16
Powers: Greater strength than the average human, Hydrokinesis, electricity generation, enhanced durability, underwater breathing, stronger toxin resistance due to thicker skin.
Bio: Ohera is Atlantean and grew up in a smaller town in Atlantis, Allumin of Sevaris. Ohera always wanted to help and protect people, to make a difference, so when she got old enough she signed up to join the Atlantean defenders, they army of sorts. That was when she moved to the in the main capital of Atlantis. Ohera combined her warrior training with studies at the Conservatory of Sorcery.
After roughly two months into her training Ohera was picked out among several other young warriors that too studied there. They soon found out that there was no one less than the King himself and the Queen who'd summoned them for a test. Turned out, they needed someone to keep an extra eye and protection for their daughter, who now also were going to start studying at the Conservatory. Ohera and the other 4 summoned were set for tests, both mental and physical tests to see who'd be better fit for their daughter's protection. After tough challenges Ohera stood as the remaining candidate. When she was asked if she'd accept the position as guardian and protector she couldn't say no. What a great honour! Ohera accepted the important quest and swore she would protect the princess with her life.
After Kaldur left King Orin's side to join Black Manta, Aquaman turned to Ohera. Because he didn't see his daughter, Naiya needing her protection anymore he asked her to take Aqualad's place. After Naiya gave her approve, knowing Ohera wanted this, she became his new "sidekick". To start fighting battles on land was a whole lot else than Ohera was used to, but she soon came to love spending time on the surface world. Even so she missed her time in Atlantis and spending time with the princess, who'd during the years become like a best friend of hers. But she had duties as a warrior, and the princess had duties of being well, the princess.
For over a year Ohera has been helping Aquaman fight crime and serve justice under her new alter ego "Athena", after the Greek goddess of wisdom and war. Is now experienced at fighting criminals both on land and in the ocean.
Personality: Ohera is very polite and open minded. She's both reserved and front to action. She doesn't like to be held back in a fight as she got a lot of warrior in her, and can be very short tempered from time to time. However, she never disobeys a strict order. In that way Ohera is very patient, sincere and honest. She always wants to do a good job.
Ohera is a good person to talk to for advice and serious questions and subjects. Her open mind and calm strategy is what makes her a great warrior. That's also why she got elected as team leader. At least until Batgirl feel ready to take over. Ohera is sensitive even though she doesn't show it. She's very reserved with her feelings and know how to distant them from a battle. She also takes a lot of responsibility for her actions and the consequences of being a hero. Is generally very friendly towards everyone on the team.
Looks: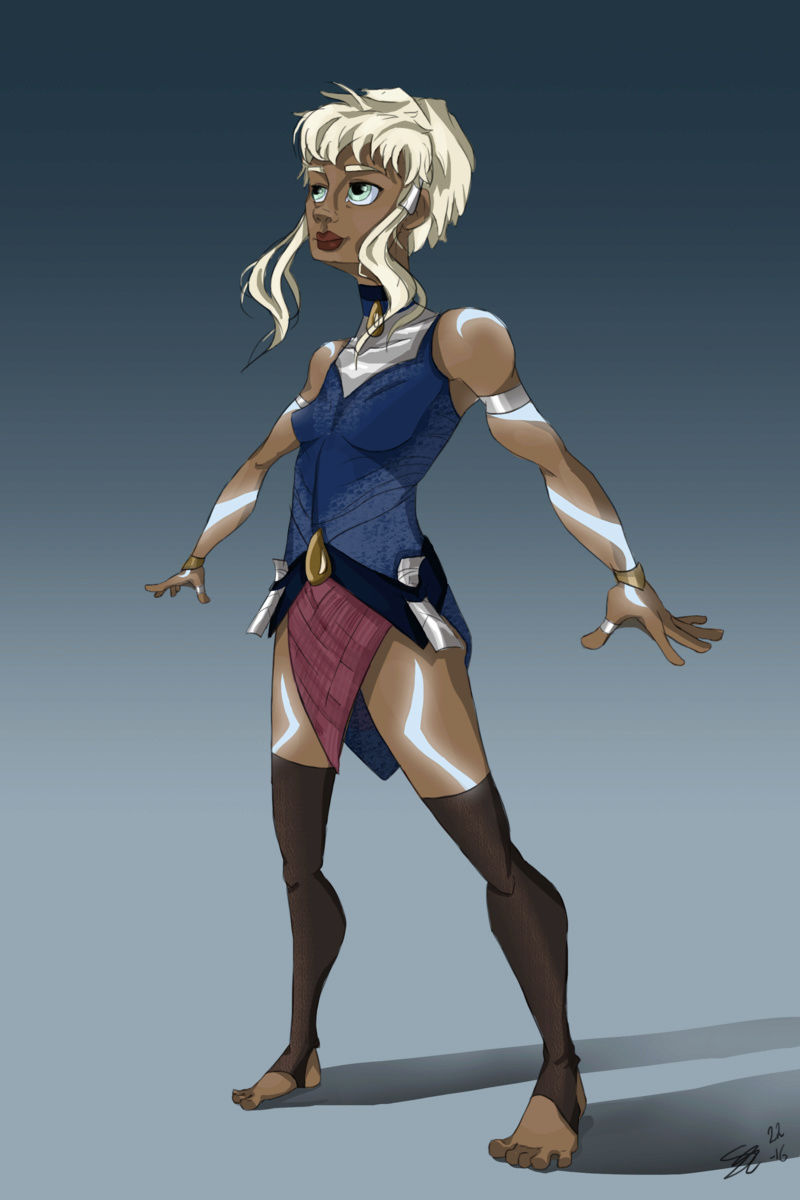 Shinefairy




Messages

: 4928


Data de inscrição

: 2014-04-02



Name: Callie Allen
Alias: Bolt
Age: 15
Powers: Super Speed
Bio: As the daughter or Barry Allen and Iris West, it was to be expected that she would end up being a super heroine.
Born with the same powers as her dad, Callie never got to be a normal kid. As soon as she learnt how to walk she was already running around the house at impossible speed.
Her father, of course, was always right behind her, stopping her from making a mess, or fixing everything if he couldn't get to her in time.
Callie had to learn to act normal since she was little. It was hard for her parents to teach her she had to keep her powers hidden, that other kids weren't like her, that she was special. But as any child, at first she didn't obey. Plenty of times her parents had had to change her to different schools, arrange things so that no one would suspect about her, and even convincing people that they hadn't
really
seen Callie running at the speed of sound.
It was hard for them, but in the end everything worked out. Callie grew to be more responsible, and when this finally happened, her father decided to tell her about his superhero job. That way she could understand why it was so important that she kept her powers a secret, and his as well.
Of course this caused the young girl to want to join her father. Nothing could be better than helping her daddy save the world!
At first Barry refused. He didn't want her to risk her life, and he knew how dangerous that job could be.
But Callie insisted... and insisted, and insisted. Just like her parents, she wasn't one to give up easily when she was determined to do something.
Finally, fearing that if he didn't agree she'd end up doing it anyways, the Flash accepted, deciding to train her so that she would become a hero just like him.
When this happened, Callie got to know a whole new part of her dad's life that she had never known before.
She met some of the other Leaguers, and Batgirl, who soon became a really close friend of hers. It was nice to have another young heroine she could talk to about this!
And some years later, when she was 15, something amazing finally happened. The Team was formed!
Sure, she would've liked to have joined the League, but she couldn't be happier in that moment. The team was great, she had now lots of new friends, and they could all work together to be heroes and save the world!
Personality: Just like her dad, she's pretty smart. She has great grades in her science class, and she loves it! And her problem solving skills aren't that bad either. And just like her mom, she's curious and doesn't give up easily. 
She's also really confident, and usually likes to take things easy and with some humor. Even if that gets her into trouble, she usually says what's on her mind.
Sometimes she can be a bit too cocky, or it can be hard for her to take things seriously, but when the moment calls for it, she can leave her silliness behind to focus on the matter at hand.
Looks:

Lily07




Messages

: 1255


Data de inscrição

: 2014-04-14



I love both of y'alls! Now just for me to catch up XD I'll most likely being doing that tomorrow. So late for me to do it now XD It's past midnight here and I am tired haha. I still need to draw mine...

IceMakeMage19




Messages

: 12111


Data de inscrição

: 2014-04-02



Name: Princess Naiya (Altantean: Ναυία)
Alias: Syren
Age: 16
Powers: Strength a little greater than that of an average humans; highly skilled in the arts of Atlantean Sorcery taught by her mother, Queen Mera; Hydrokinesis; Electricity Generation; other attributes include apparent gills on the side of her neck to help her breathe underwater and tough skin durability, but she is not as experienced with poison as her other Atlantean comrades.
Weakness: Very prone to dry climates and hot temperatures
Bio: Naiya, or Princess Ναυία, is the first born to the King and Queen of Atlantis. She grew up pampered and protected by her parents, uncle, and guards of the castle. Ever since she was a little girl, she wanted to be like her daddy, who was not just the Great King of Atlantis, but the Great Aquaman to the surface dwellers. The little Atlantean would pretend to be fighting "bad guys" instead of learning her studies by her private tutors. And when she got older, she would sneak out of her room to watch her mother and other teachers teach other Atlanteans her age learn combat and magic. Naiya already knew a thing or two from the private magic lessons her mother taught her, but she wanted to interact with the other children.
For her 10th birthday, she requested to have classes outside of the castle at the Conservatory of Magic in Poseidonis. King Orin was a little hesitant, but he admired the determination he saw in his daughter as he saw in himself, and granted her wish. From that day, she began to learn combat and magic at the Conservatory. Naiya was ecstatic! She was finally able to interact with other children and learn alongside them.
Starting out was rough. She wasn't used to being treated like a common student. Even her mother did not give her special treatment. However, she just trumped over it. While she was studying, she met Garth, Tula, Kaldur'ahm, and another Atlantean girl named Ohera T'heos. Her first friends! She was so happy! Then things got even better when Ohera was chosen as her so called "bodyguard". It was weird at first, not liking the special treatment, but Ohera was nice and she couldn't turn her away. The two grew close, almost like sisters, which Naiya appreciated because she was an only child.
Then, some years later, her friend and ally, Kaldur'ahm, betrayed her father and all of them by joining Black Manta's side. It broke little Naiya's heart. A part of her loved Kaldur. She always looked up to him. He had been her father's right hand man, as Aqualad, and he broke all of their hearts and trust. With his betrayal, King Orin needed a new partner, and he chose Ohera. Naiya pretended to be happy for her best friend, but this caused Ohera to be spending more time with her father up on the surface. The Atlantean couldn't help but feel abandoned. Everyone was leaving her. Kaldur. Opera. Even Garth and Tula, who were obviously a couple, didn't spend time with her. All of the other Atlanteans, who thought the "purebreds" weren't trustworthy, no one really hung out with her. Naiya never felt more alone. However, this just caused her to become more engrossed into her studies, pushing away all emotion.
Finally, for her 16th birthday, she requested - no, she
demanded
to be given a spot on the Team of sidekicks that were formed, and her father, after much debating, gave in, but only if she passed so many tests. After the hard trials, Naiya came out victorious, and granted herself the name "Syren".
Personality: Naiya is many things, but she does not count herself weak. She is full of determination to prove to everyone that she could take care of herself by herself. This makes her a little hard to work with others. Along with being royalty, she does not cope with being told what to do, by the leader of the new Team, or by any of the Justice Leaguers other than her father. However, she is very kind and considerate, and really wants to put others needs in front of hers, just as she knew her father would do as a Great King. She is the heir to the Atlantean throne, so she must be diligent with becoming a person her father would want her to be.
Look: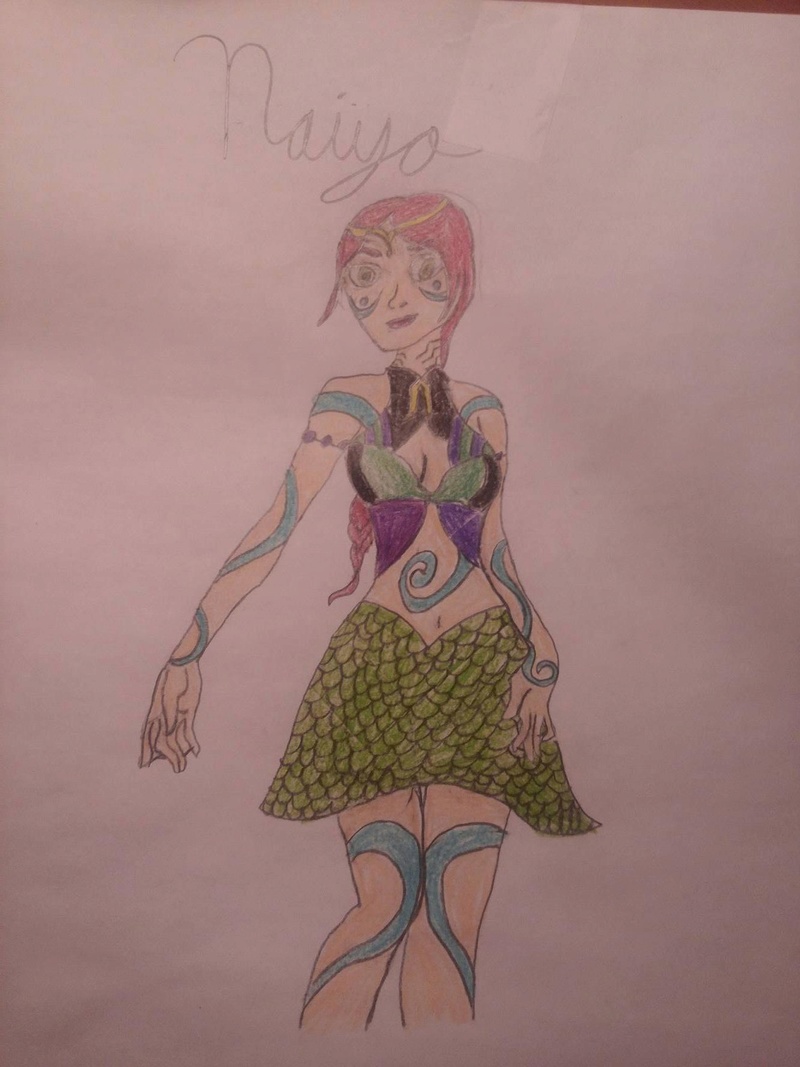 IceMakeMage19




Messages

: 12111


Data de inscrição

: 2014-04-02



Awesome Alls! FInally you got your char and I think this is gonna be epic!

Shinefairy




Messages

: 4928


Data de inscrição

: 2014-04-02



Thank!!
I'm excited!

IceMakeMage19




Messages

: 12111


Data de inscrição

: 2014-04-02



So am I!

Shinefairy




Messages

: 4928


Data de inscrição

: 2014-04-02



Page 1 of 13 • 1, 2, 3 ... 11, 12, 13

---
Permissions in this forum:
You
cannot
reply to topics in this forum