Page 1 of 49 • 1, 2, 3 ... 25 ... 49

Okay, so this is a rp that's alredy been started. As for now we've just finnished episode 3, so yeah.
Avatar: Legend of Aang
Characters
Name: Aang
Nation: Air Nomads
Age: 12-13
Abilities/gear: Avatar, airbending-staff, Avatar State
Looks: http://www.wallsave.com/wallpapers/1280 ... 170310.jpg
Name: Katara
Nation: Water Tribe
Age: 14-15
Abilities/gear: Water bender, healing water from the northpole, water bending scroll
Looks: http://2.bp.blogspot.com/_K6U72KPuE9k/T ... atara.jpeg
Name: Sokka ( Mine )
Nation: Water Tribe
Age: 15-16
Abilities/gear: None-bender, Boomerang, Sword
Looks: http://x4ashes4ashes.files.wordpress.co ... racter.jpg
Name: Toph
Nation: Earth Kingdom
Age: 12-13
Abilities/gear: Earth bender, blind ( vision threw viberation )
Looks: http://www.absoluteanime.com/avatar_the ... 5B3%5D.jpg
Name: Prince Zuko ( Nia's )
Nation: Fire Nation
Age: 16-17
Abilities/gear: Fire bender, doubble sword ( blue spirit )
Looks: http://images1.wikia.nocookie.net/__cb2 ... b/Zuko.png
Name: Princess Azula
Nation: Fire Nation
Age: 14-15
Abilities/gear: Fire bender, blue fire, lightning
Looks: http://images4.wikia.nocookie.net/__cb2 ... /Azula.png
Name: Ty Lee
Nation: Fire Nation
Age: 14-15
Abilities/gear: None-bender, acrobatics, tai-chi
Looks: http://statici.behindthevoiceactors.com ... r_6274.jpg
Name: Mai
Nation: Fire Nation
Age: 15-16
Abilities/gear: None-bender, knifes
Looks: http://images4.fanpop.com/image/photos/ ... 80-272.jpg
Name: Princess Yue
Nation: Water Tribe
Age: 15-16
Abilities/gear: None-bender, moon spirit
Looks: http://images3.wikia.nocookie.net/__cb2 ... nd_Yue.png
Name: Suki
Nation: Earth Kingdom
Age: 15-16
Abilities/gear: None-bender, fan, fighting skills
Looks: http://images3.wikia.nocookie.net/__cb2 ... 1/Suki.jpg
Other chars.
Name: Amiie
Nation: Air Nomads
Age: 117 ( 17- )
Bio: Amiie was born in the western airtemple 107 years ago, after Aang was born as the new Avatar 7 years before her. It was a time of peace, but not for long. Amiie was only 5 years old when the fire nation first attacked the Western Airtemple, destroying everything, untill the dinstinction of it. However Laura, Amiies mother and the monks watching over all the young airbenders did everything to protect them. Laura had been aware the fire nation were comming from contact with a friend from the firenation and been asked to send over their symbol clothes. When the time of the attack started Amiie didn't know better than to do as she was told, and that was being put into the fire nations clothes, hoping it would protect her. Laura handed Amiie her own monk charm necklace, telling her it had special gifts and to never forgett who she was. Then she left.
One of the fire nations guards who were fighting saw a fire nation kid in the middle of the mess, confused and lost and he took her with him to saftey, thinking she must have been brougt from their nation by accident.
Time past when they returned to the fire nation, the guard serching for the parents of Amiie. Since no one recognized the kid they sent her of with the abandoned kids of to the Earth Kingdom. Amiie lived a long time at a kind earth kingdom family who took care of her like their own. But when Amiie started practizing her airbending and reaching the age of 9 her airbending tatoos started showing off. When she retured home she noticed a difference at her so called parents and overhearing them one night they were onna hand her over to the fire nation, fearing them since she was an airbender. That's when Amiie ran away, away and as far away as she could. But as she sat down, looking at the medallion that once belonged to Laura it started glowing and that's it.
When Amiie woke up again she was found by some older women, from the northen water tribe. Almost 100 years had past and Amiie started understanding as the time went, but she let the women know that she was not the avatar, which the thought at first. But Amiie moved along with the travling women to the nearby islands of the southern water tribe and lived with them untill her late teens.
Personality: Amiie is a tough, easy-going, but very diciplined young airbender who loves to discover, learn and have fun. She never had any friends her age because there havn't been anyone around and she's always told to be carefull, even though she's very curious to new people.
Abilities/gear: Airbender, Staff-used for airbending, Medallion-A relic of old meditation which some cases show of to keep time in connection with the spirit world.
Looks: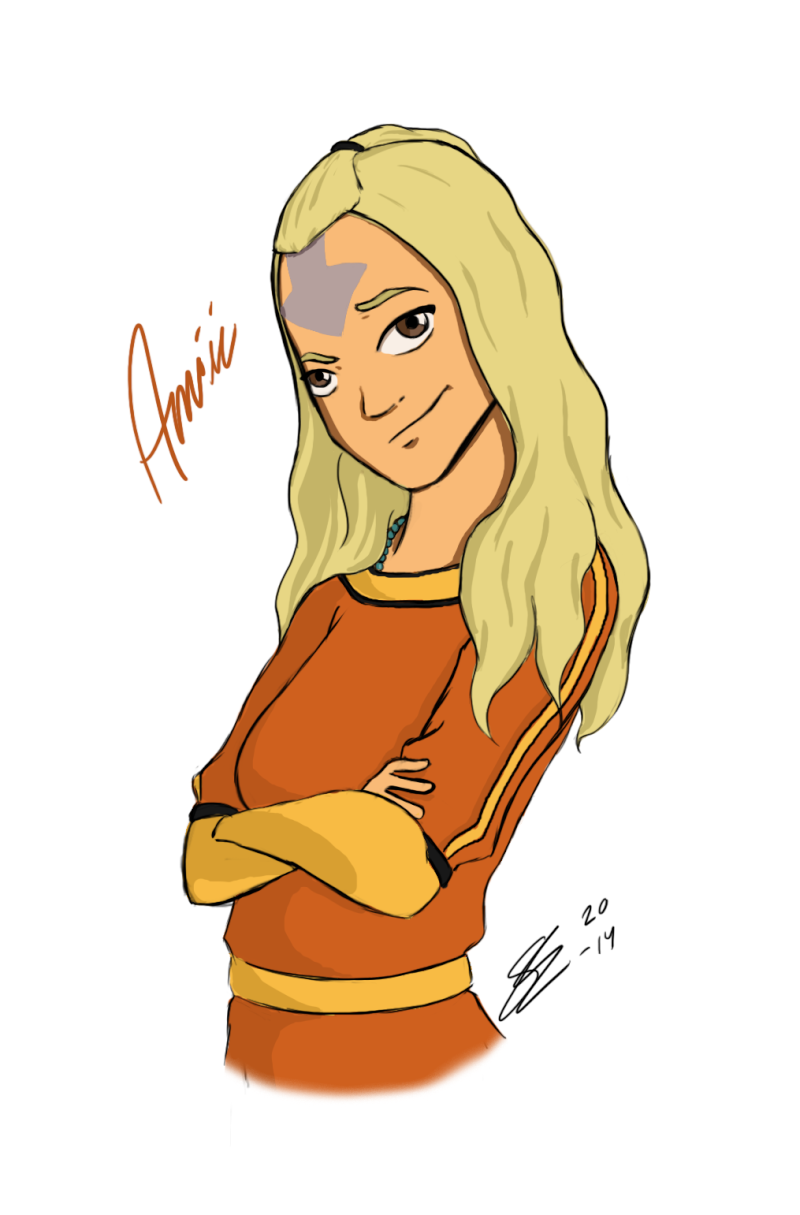 Name: Miya
Nation: Fire Nation (formally) Southern Water Tribe
Age: 14-15
Abilities/Gear(No avatar stuff): Water Bending, Healing, and Blood Bending (future)
Personality: Miya is a girl that is sweet to the core of her soul. She really hardly ever harm a soul, unless she has no choice. She loves any kind of animal, any kind of culture, and will always love her family and friends. Although, she can be a bit impatient and hot tempered, not to mention gets jealous easily and takes almost anything the wrong way. Although, if you got to know her, you would see she is a smart, sweet, caring, responsible, and beautiful young water bender.
Bio: Miya's mother was originally from the Northern Water Tribe, but to get away from her Tribe's unfair cultures, she took a chance and went to the Fire Nation, claiming she was a non-bender, and that's where she met Miya's father, a non-bender. For years, Miya's mother didn't tell her dad about being a water bender, and was scared to, since her dad was a Fire Nation citizen, yet he was kind. An also big thing got to Miya's mother about not telling her husband about being a water bender... He was friends with the Royal Family.
When Miya was born, she grew up as friends with Zuko, Azula, May, and even Ty Lee. Miya grew to love Ty Lee as a sister. To Mai and Azula, not to much. She could always tell there was something dark inside of Azula. As of Mai, she couldn't take how gloomy she was all the time, not to mention the crush she knew that she had on Zuko. It just irked her more that Zuko might have really liked her back. It was hard to keep her own feelings for Zuko back. That little girl had it bad for the Fire Nation Prince.
When Miya was 7, her dad had gone off to serve in the war, leaving Miya and her mother alone. It worried Miya's mother to be alone with a possible water bender. Who else would be watching over them? And if the Fire Nation found out about their true identity, then it could mean the end to both of them. It wasn't long after Miya's father's leave that she started to show her water bending abilities. The emotion of her father risking his life for a bad cause (since Miya never liked the war, even if she hardly understood it) only made her bending stronger. For her daughter's life, Miya's mother fled the Fire Nation and stowed away on a cargo ship that was owned by a good friend of Miya's mother. He actually knew of her water bending and agreed to take her as far to the South Pole as he could. From there, Miya's mother would have to find a way to the South Pole. No way was she going back to the North Pole and their unruly laws.
When they got to their nearest destination, Miya and her mother were able to join some Water Bending soldiers that were going back to the South Pole so they could take some of the wounded home. All this time, Miya was angry about leaving her life behind, not to mention Zuko behind. Her mother had explained to her, though, so she understood. She just hoped that her dad would soon get the message and come searching for them so they could be a family again...... He never did.
Adjusting to living in the Southern Water Tribe wasn't as hard as she thought it would be. It was very, very small, and very cold. Two things she was not used to. The only thing that really made her feel comfortable and at home were all the nice people that seemed to care for family a lot. Not to mention that she was able to finally start to water bend. From there, she met Katara, Sokka, Hakoda, and their mother that people just called "Gran-Gran". Those people were the first to treat them like family when they arrived. Katara was like a perfect big sister that was a water bender, too, so they both trained together, and got help from her mother. Her mother never mastered it, so they could only learn a couple of moves. Sokka was a perfect big brother. He could always make her laugh with his lame jokes and antics. He was also very protective, since he made sure both her and Katara were safe. He was even more protecting a little bossy when Hakoda left. Miya saw Hakoda as a father type figure. Strong, smart, funny, and a total su*** to his daughter and Miya. It just saddened Miya when he left only made a year after meeting him. She felt like she was losing another dad.
As Miya grew, she tried not to miss her dad too much, or even tried to hate him. Sometimes, she wondered if he ever got the note her mother left him about leaving. If not, then that could explain it. Her dad loved her more than anything on that planet, besides her mother. He wouldn't just let them live alone without him just because they weren't really Fire Nation, would he? The hope of seeing her father again kept Miya strong, brave, and hopeful. Just...every year, the hope was diminishing little by little. Even the thought of her dad being dead picked at her. And the worry of Zuko forgetting her, and them being hunted down by the Fire Nation to kill them because they had tricked the Royal Family. It just seemed a little too much on a girl's shoulders. She was just curious as how her mom handled it all.
Eventually, Miya grew into a beautiful, strong, independent woman in that small tribe of hers. She still had hopes of seeing her father again, but she hadn't seen him since he left years ago for the stupid war. She still had a carefree spirit, but she could be very stern and almost mother like, since her life was almost revolved around that. She just still had hope of seeing Zuko and her dad again, and also of this stupid war ending.
Looks:
I'll fix this intro better later on, but yeah for now. xD


Last edited by Shinefairy on Mon Jan 02, 2017 10:20 pm; edited 3 times in total

Shinefairy




Messages

: 4928


Data de inscrição

: 2014-04-02




IceMakeMage19




Messages

: 12111


Data de inscrição

: 2014-04-02



Yeah xD Um, I think we had like, only teh part where they leave the southern air temple left so... maybe we could start with next? Oh, and before ep.4 I want them 2 meet my char xD

Shinefairy




Messages

: 4928


Data de inscrição

: 2014-04-02




IceMakeMage19




Messages

: 12111


Data de inscrição

: 2014-04-02




Shinefairy




Messages

: 4928


Data de inscrição

: 2014-04-02



So, bring in your character?

IceMakeMage19




Messages

: 12111


Data de inscrição

: 2014-04-02



Right! I was thinking like they had a camp in some woods or something, Aang being all down about finding out what happened 2 his people and all. Maybe the others could go 2 get some food and then I can have my char practise some airbending stuff in the woods and they could all bump into eachother or something?

Shinefairy




Messages

: 4928


Data de inscrição

: 2014-04-02



Sure!  
 Sounds good!

IceMakeMage19




Messages

: 12111


Data de inscrição

: 2014-04-02



(Sooo, starties then? Take that as a yes.)

Katara was just comming back with some more logs they could use for the fire when she saw Aang's troubled face. She frowned and put the logs down, bending down beside him as she put a hand on his shoulder. "Aang, are you okay?"

Shinefairy




Messages

: 4928


Data de inscrição

: 2014-04-02



Page 1 of 49 • 1, 2, 3 ... 25 ... 49

---
Permissions in this forum:
You
cannot
reply to topics in this forum